My Pregnancy Must-Haves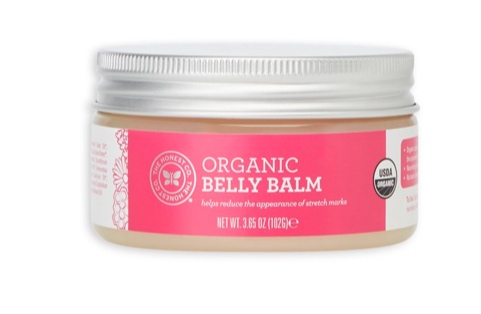 Honest Organic Belly Balm
I loooove the essential oil smell of this balm and it makes my skin feel like butter. And it's made with organic and natural ingredients. Only the best for my skin during this time! I'm currently 32 weeks pregnant and not one stretch mark…it may "genetics" or this product. All I know is I can't live without this balm! It also helps soothe itchy belly.
I love the coconut scent!
For some reason during my pregnancy one of my biggest issues has been severe chapped and cracking lips. It's not cute. I love slathering this balm on my lips at night to help give them that added moisture they need, I notice a huge difference when I use and don't use this balm.
Soft Bras & Maternity Jeans
Bigger boobs was one of my first signs I was pregnant, so naturally none of bras fit or they were uncomfortable. I would just suggest getting any soft, unlined bra you can find. This bra (I'm wearing above), I found at Walmart for around $5 and it's my favorite! It has removable pads if you don't want them, but they help keep a nice shape.
I was hesitant on buying maternity jeans at first because I was afraid they were going to be expensive and not flattering. But since I was about 6 or 7 weeks when my normal pants stopped fitting, I had to do something. I honestly didn't want to invest too much into maternity wear because who knows the next time I'll be pregnant and/or if I'll be the same size again when I have more kids. That's why I went to Thredup and found some like-new maternity jeans that are super comfy and I scored for around $16.
SNACKS
1) String Cheese- I know, kind of random. I hadn't eaten string cheese since probably high school when I would bring it in my lunch box. And for the majority I tried to stay away from dairy before I was pregnant. Well, pregnant Laura lives on dairy…string cheese was sometimes the only thing I could stomach and actually keep down during the first few weeks of morning sickness. But I do still love it as a snack with some almonds.
2) Gummy Candy- my candy of choice has been Lifesavers. Again, something I never gravitated towards pre-pregnancy, but definitely helped when I needed something sweet and couldn't stomach a whole lot.
3) BodyArmour Super Drink- even though water has been my go-to drink sometimes I still feel dehydrated. This drink is perfect for helping me actually feel hydrated and gives me some energy. I've also heard it helps with milk production while breastfeeding!
I've been uncomfortable sleeping in bed since I found out I was pregnant. This was the first maternity item I bought and it's my best friend. I like that this body pillow has the feature to un-zip one of the sides so I can place the pillow where I need to. But, if I want to keep it zipped, there's an open spot for your arm so it doesn't fall asleep.
Some medicines helped me with my morning sickness but these little candies were amazing at nausea relief. I don't know how these work because they're basically just candy, but trust me, major lifesaver!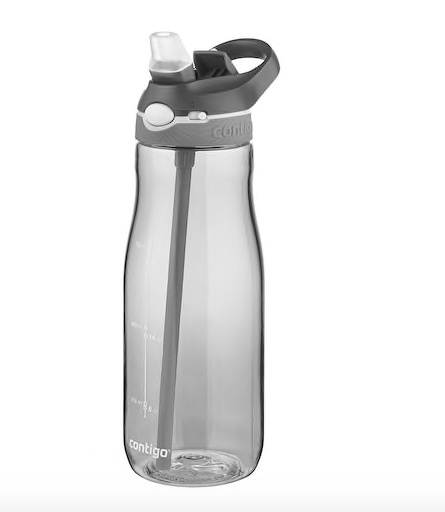 Contigo Ashland Water Bottle
This is a 40 oz bottle w/ a built in straw. I had to force myself to drink water in the first 2 trimesters, then the 3rd trimester hit and I can't get enough water. I crave water! This bottle helps me know I'm drinking enough water and the built-in straw is super nice to have since I'm super clumsy and somehow always spill water on myself with any other water bottle.
These are the perfect everyday pant. They're basically glorified pj's, but nobody should be judging you when you're pregnant. I wear these to work dressed up with a nicer top and flats. I love that you get a basic black pair and a fun printed pair together!
Vitafusion PreNatal Vitamins
I was taking prenatal vitamins before I got pregnant, in the event that I did get pregnant. I was taking the pill form and those 100% did not agree with my morning sickness. Switching to gummies helped tremendously because they are way easier to take and are easy on the stomach. These one's are sweet so they taste like candy!
Laura Ware